MOUNTAIN BIKING - TREKKING - SKI TOURING
in remote regions of the Indian Himalayas.
CAMEL AND BIKING SAFARIS in Rajasthan.
Hidden Himalaya is directed by Anna Cook who has been running guided trips in the Indian Himalaya for the past seven years. Hidden Himalaya specialises in adventure travel in remote regions of the Indian Himalaya. Our small groups and personal service, encourage that unique contact with a different culture. We provide a professional and organised service geared to take the hassle out of travelling in a foreign country.
Along with our scheduled trips Hidden Himalaya also offers customised trips. Generally exploratory in nature, these include ski touring, mountain biking, jeep safaris and trekking in remote areas of the Indian Himalaya. You organise your group, and we organise the rest.

Himalayan BIKE TRIPS:
Discover the essence of India on a mountain bike.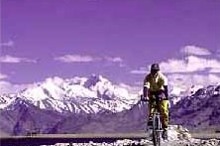 A strong desire to ride some real mountains ... to meet the local people and their culture? Join us on an organised mountain bike trip to remote and relatively undiscovered regions of the hidden Himalaya.
A phenomenal mixture of both sealed and dirt roads, pure adrenaline descents, switchbacks, mellow freewheeling and fast blasts all in amongst the magical backdrop of the Greater Himalayan chain. Flights, Accommodation, back-up, equipment, restricted area permits are all sorted for you, all you have to do is ride ... Both these remote regions in the far North Western corner of India, cut off from the world by the Himalaya chain, offer unrivalled possibilities for the seriously keen biker.
Ladakh to Changtang Discovery.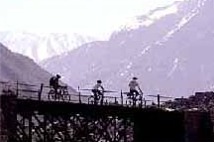 A flight across the Himalaya to Leh in the remote region of Ladakh, often known as 'Little Tibet', takes you to an ancient culture in the far North Western corner of India, isolated for nine months of the year by snow covered passes. After an initial few days riding and acclimatising in Ladakh, our journey takes us off the beaten track into the secluded area of Changtang.
Ride through huge scenery, across vast dry plateau's, high mountain passes, alongside stunning mountain lakes, including a salt lake at 4,500m. Explore isolated villages frozen in time, visit remote monasteries and meet Tibetan nomads wandering with their herds and still living in tents of yak skin cloth. A trip offering unrivalled possibilities for mountain biking with a chance to meet the local people and experience their culture.
Tibetan Spiti Exploration.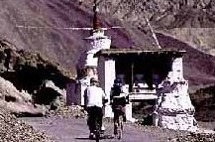 Experience the diversity of the Hidden Himalaya as you ride from the lush Kulu Valley in the predominantly Hindu State of Himachal Pradesh, over passes in the heart of the Indian Himalaya, and into the more deserted and remote Tibetan area of Spiti. Here, monks whose every line on their face tells a story, and monasteries as old as 1,000 years, will give you a feeling of stepping back in time a couple of centuries. Cruise down the extensive Spiti valley, visiting small Tibetan influenced towns existing in the weathered moonlike landscape, explore interesting side valleys and end the trip in the more vegetated region of Kinnaur, surrounded by the dramatic peaks of Kinner Kailash.
Rajasthan Camel Trip: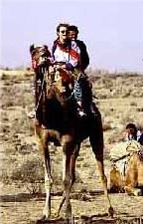 Touch the secrets of Rajastan on Camel, Bike and Elephant.
Rajasthan Safari.
Rajasthan, 'The Land of the Kings' romantic, exotic and colourful. Cycle the rural roads on traditional Indian bicycle through jungles, fields, the ancient Aravali hills, and undiscovered tribal areas. Ride by camel for a 4 day safari capturing the mood of the Thar Desert - travel across sand dunes, into isolated mud villages, experience the magic of the desert sunsets and join the locals dancing to the rhythm of our own travelling musicians around the campfire at night. Touch the vitality of the Rajasthani people - the men with their vibrant turbans, and twirled moustaches larger than their smiles; the women gracefully draped in color and amazing jewellery. Visit a wildlife park, to see tigers, crocodiles, and other wild animals in virgin bush. Explore fortified towns, stay in old castles, and ride the streets of Jaipur by elephant. A relatively less challenging trip.
Himalayan Trek :
Explore the hidden Himalaya on foot.
Pin Parvati Trek.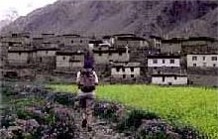 This trek takes you through the Greater Himalaya National Park. From the verdant forests and rich Alpine meadows of the predominantly Hindu upper Kulu Valley of Himachal Pradesh we trek over the Pin Parvati Pass (4,730m), experiencing outstanding views across the main Himalaya Range, then continue down to the Tibetan influenced area of Spiti. Spiti is a unique land of isolated rugged wilderness, and moonscape appearance. The trip incorporates small mountain villages and their temples, shepherds tending to their buffalo, natural hot springs, huge views, friendly laughing mountain people, village children, memorable river crossings, hanging glaciers, remote 11th century monasteries and a land of geographic contrasts. The trip is a total of 20 days Delhi.
Women's Ski Touring Adventure:
A mind that is stretched by new experiences,
can never go back to old dimensions.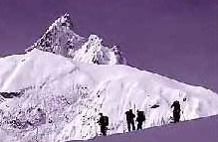 Women's ski touring adventure in the Indian Himalaya is a chance to meet the local mountain people and their culture, to experience fantastic skiing, discover spectacular views, and challenge yourself like you've always said you would.
Join us on an all women ski touring trip to the stunning Kulu Valley in Northern India. This is a chance to explore a spectacular part of the Indian Himalaya, with a group of like minded people. We avoid excessive pack hauling in favour of some quality skiing and good times. 2002 is the 8th year that this adventure has run. The trip is coordinated by Anna Cook with the assistance of and Anna Keeling. Both your guides have had extensive ski guiding experience in New Zealand and India, especially around the Manali and Kulu Valley areas. They are also members of the NZ Mountain Guides Association.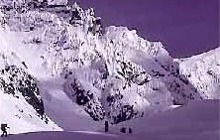 The area this trip takes you to is directly north of Delhi in the state of Himachal Pradesh, which is predominantly a Hindu state. We'll base out of the town of Manali, in the Kulu Valley. With its fascinating bazaar, colourful people and excellent local restaurants, Manali makes an excellent base. We'll spend our initial few days here acclimatising with easy day ski touring trips and the use of helicopter for access to the snow line.
Once acclimatised, we'll head away on a two week trip up the adjacent Malana Valley. This trip involves a four day walk in to Base Camp with the aid of local porters. We'll spend time here exploring enchanting side valleys, hidden glaciers and absorbing views of the endless ranges and peaks of the greater Indian Himalaya.
You do not have to be an extreme skier, but you need to be capable of skiing off-piste. You will need a reasonable standard of fitness. Hidden Himalaya also guides mixed groups for ski touring adventures into similar areas of the Indian Himalaya.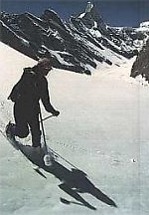 WE ALSO SPECIALISE IN CUSTOMISED TRIPS.
Generally exploratory in nature, these include ski touring, mountain biking, jeep safaris, and trekking in remote areas of the Indian Himalaya. You organise your group, we'll organise the rest.